Global Industrial Robots Market to Witness a CAGR of 8.9% during 2018-2024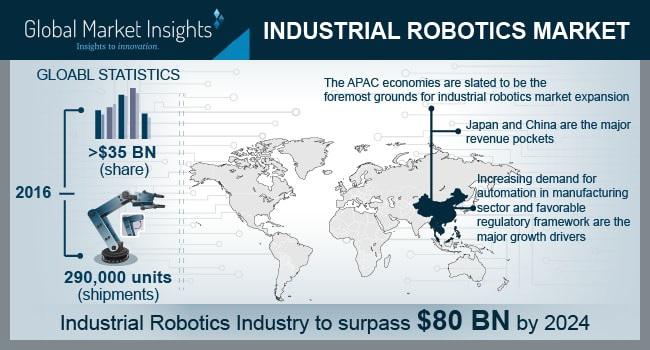 NEW YORK, Dec. 11, 2018 (GLOBE NEWSWIRE) — The global industrial robot market is expected to reach 34.71 billionin 2024, at a CAGR of 8.9%. Key factors attributing to the growth of the market includes: growing need for automation in non-conventional areas, increasing demand for industrial robots from small and medium enterprises in developing countries, and rising labor wages. Moreover, advancements in artificial intelligence and rapid expansion of automotive industry are further augmenting the development of industrial robots. Additionally, business expansion initiatives and rising adoption of robotics in manufacturing sector will also provide more opportunities in the industrial robotics market during the forecast period.
Industrial robots are the multipurpose re-programmable machines that were primarily used in electrical and electronics, and automotive industries. Demand for industrial robots has accelerated due to ongoing innovations in technical upgrading. These robots are in demand due to various factors such as their ability to coordinate and collaborate effectively with multiple users. Additionally, deployment of industrial robots aids in increasing profits by reducing production time, and results in higher quality product. Furthermore, rising labor costs and shrinking working-age population have also led to the adoption of the robot-driven industrial strategy.
Technological advancements boosting the market growth
Industrial robots are extensively used in an attempt to substitute physical work. With the evolution of technology, portable and robust robots have been introduced without compromising on versatility and accuracy. These robots are extremely accurate, and portable coordinate measuring machines (CMM) that are used to build products, optimize processes, and deliver solutions by measuring quickly and precisely. Automation helps in boosting the overall economic growth coupled with enhanced productivity. According to international federation of robotics, 74 robot units per thousand employees is the new average density in the manufacturing industries.
Key findings from the report:
On the basis of types, collaborative robot segment is likely to grow with the highest CAGR during the forecast period, due to cost-effectiveness and growing adoption of these robots by SMEs. However, the articulated robot segment is projected to account the largest market share in 2017, and is expected to retain its dominance over the forecast period. The growth is attributed to their various applications in end-use industries.
Based on End-use, automotive industry held the major market share in 2017, and is expected to retain its dominance over 2018-2024. The growth in this sector is attributed to the rising investments in manufacturing, and increasing demand for passenger cars that requires robots for automation solutions. Furthermore, electrical and electronics industry is expected to register the highest CAGR during the forecast period. The growth in the sector is primarily driven by the deployment of robotic automation that helps electronics manufacturers to place the electronic components precisely, and assemble them accurately in short span of time.
Key players operating in the global industrial robot market includes FANUC America Corporation; Yaskawa Electric Corporation; ABB; Kuka AG; Daihen Corporation; Denso Robotics Incorporated; Epson America, Inc.; Kawasaki Heavy Industries Ltd.; Rockwell Automation Inc.; Toshiba Machine Co., Ltd.; and Nachi Robotic Systems, Inc. among others.
Global Industrial Robot Market – Regional Insight
Geographically, the global industrial robot market is segmented into North America, Europe, Asia Pacific, and Rest of the world. Asia-Pacific dominated the global industrial robot market in 2017 followed by Europe, owing to the rising adoption of industrial robots from small and medium enterprises, and increasing capital investments in R&D activities coupled with low cost of production in the region. Moreover, presence of emerging economies such as China, India, and Korea is further augmenting the market growth in the region. Also, according to international federation of robotics, the implementation of robots in developing countries has been concentrated in China, and the country is expected to maintain its frontrunner status. Robotic Density also indicates the degree to which APAC has incorporated robots into its development as a replacement for manpower. North America is expected to exhibit steady growth during the forecast period. The growth in the region is primarily due to the presence of many key players operating in the industrial robots market.C
From globe news